Orange County is a great place for taking your wedding and engagement photos. Laguna Beach has some of the nicest spots in the world for scenic backdrops. Shown below is a listing of the engagement photo hot spots you'll want to check out.
Considerations when choosing your engagement location:

Setting
It is important to choose a location that matches your vision. What type of photography setting do you imagine; beach, nature, downtown, private estate?

How Many Locations
Do you want to shoot at one location, or multiple locations?

Day and Time
The day and time that you choose to schedule your shoot will influence how busy the location will be and whether you will have a sunrise or sunset engagement shoot
Permits
Some locations require a permit. Inquire about this beforehand and make the necessary arrangements. Typically this information is easy to find online.
Locations
Here is a listing of some of the premier engagement photo locations in Orange County:
Bommer Canyon in Irvine
---
Cedar Grove Park in Tustin
---
Downtown Laguna Beach
---
Fullerton Arboretum
Overview: The Fullerton Arboretum is one of my favorite engagement locations to shoot because of how beautiful it is and the diversity of the different areas. There are lakes, bridges, gazebos, trees, plants and much more.
Time: The gardens are open from 8am - 4:30pm. If you shoot in the morning, you can avoid some of the harsh sunlight that you'll get after 11am. Because it is an Arboretum, there are a lot of shady areas, so you can shoot any time of day and find great locations.
Permit: Cost is $100. Here is the link to view the permit info online.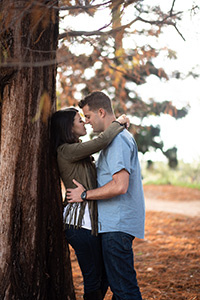 ---
Heisler Park Beach in Laguna Beach
---
Huntington Beach Pier
Overview: The Huntington Beach Pier is a nice beach location for Engagement Photos. I prefer the beaches of Laguna because they offer more scenery and there are less people.
Day/Time: Sunrise and Sunset are the preferred times. If you must shoot during other times, there is shade under the pier that always makes for great photos. Because the pier can get very busy on the weekends, it would be preferred to have the shoot during the week. On Tuesday nights, there is a street-fair event on Main St, so that might be a good day to avoid.
Permit: Free. There is no permit fee.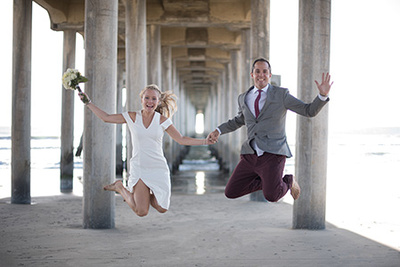 ---
James Dilley Preserve in Laguna Beach
---
Jeffrey Space Open Trail in Irvine
---
Mile Square Park in Irvine
---
Newport Beach Pier
---
Newport Beach Winery
---
San Juan Capistrano Downtown
---
San Juan Capistrano Mission
---
Table Rock Beach in Laguna Beach
---
Treasure Island Laguna Beach
Overview: Treasure Island is one of the top choices in Laguna. There are many scene options at this location. Before you arrive at the beach, there is a beautiful walkway alongside the Montage Resort that leads down to the beach. It is nice to shoot there before proceeding down to the beach. Treasure Island is known for it's famous Arch. Whether you are shooting on the front side of the arch, or on the back side, they are both beautiful and full of imagery.
Time: Sunrise, or Sunset is recommended
Permit: Laguna Beach has a permit requirement of $100. Here is the link to view the permit info online.
---
Victoria Beach in Laguna Beach
Overview: Victoria Beach is perhaps my favorite location because of it's magical feel. It is know for it's famous light tower.
Time: Sunrise and sunset are the preferred shooting times.
Permit: Cost is $150. Here is the link to view the permit info online.
---
Vintage Park in Lakeforest
Overview: Vintage Park in Lakeforest has a look and feel like you just got whisked away to the country. It is a small and private area located at a park in a residential community. In the morning the light creates a beautiful glow from behind.
Time: Sunrise, Early Morning and Sunset
Permit: Free. No permit required
---
Willow Canyon in Laguna Beach
---
See more Engagement Photography examples? Click here
If you are interested in booking Brad Zangwill Photography for your wedding, please Contact us